Memorial BAHÇELİEVLER Hospital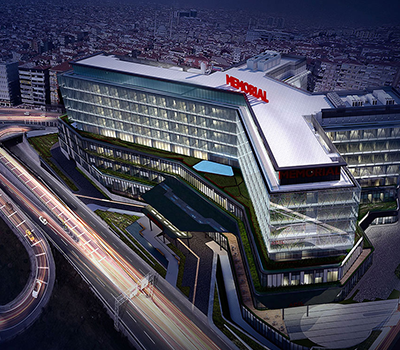 Outstanding technology, distinguished academic staff, patient-oriented service understanding, the green and healing power of art, modern architectural designs…
Memorial Bahçelievler Hospital, one of the most comprehensive health complexes in the world, brings a whole new understanding to the healthcare sector. Memorial Bahçelievler has, via the principle of humanity and respect for nature, realized the mission of providing ethical and quality healthcare services at global standards, the hospitality approach that carries the future to the contemporary time and was designed as one of the finest examples of contemporary architecture.
Memorial Health Group's 11th hospital project, Memorial Bahçelievler, serves a total area of 72 thousand square meters. The hospital has 8 thousand square meters of green space. Equipped with advanced diagnostic and treatment units, the hospital has a capacity of 320 beds, a total of 15 operating rooms, one hybrid, and 49 intensive care beds, 135 outpatient clinics and 31 observation rooms.
The Bahçelievler Hospital, where Memorial Health Group conveys all its experiences in the field of hospitalization, offers services to patients and their relatives in a warm environment with its superior technological equipment, academic staff who have achieved significant successes in national and international platforms and who are specialized in the specialized branches, specialist doctors, experience and conscious care to contribute to the patient's
Founded in 1995, Memorial Healthcare Investments Corporation's first project was Memorial Şişli Hospital. Construction was completed in the late 1999 and Memorial Sisli Hospital received its first patient in February 2000. Memorial Şişli Hospital started to rise on the European side of Istanbul with support from ECRI, the most famous consulting firm in the US hospital sector. The Rising was not only a hospital, but also Turkey's future in the field of Health.
The building of Memorial Şişli Hospital, whose name will be commemorated with trust and leadership, was completed in about 3 years. The hospital, which was equipped with the most advanced technology of the period, which was supposed to be in an international Health Organization, admitted its first patient in February 2000.
Just 2 years after the foundation of Memorial Şişli Hospital, JCI (Joint Commission International) received the Accreditation Certificate, which is the first certificate of quality health service in the world and the 21st World of Turkey to be awarded the right to receive this certificate. it became a hospital.
Şişli Hospital provides high-quality health care services at international standards to its local and international patients with its 53.000 square meters covered area, 200-bed capacity. Memorial Şişli Hospital has 13 operating rooms, 4 intensive care (kvc, general, coronary, neonatal), 3 laboratories and also includes Organ Transplant Center, in vitro fertilization center, genetic Center, Stroke Center, Breast Health and Diseases Center, Oncology Center, da Vinci Robotic Surgery Center and Bone Marrow Transplant Center.
Memorial Şişli Hospital is an international reference center that accepts patients from 92 countries.
Memorial ATAŞEHİR Hospital
Memorial Ataşehir Hospital, which entered service in 2010, has been designed with its modern architecture, advanced technology devices, comfortable patient rooms and outpatient clinics and all the details in mind to make patients feel special and safe.
Memorial Atasehir Hospital, is a global hospital with its 22.000 square meter of area, 144 bed capacity, modern architecture, comfortable patient rooms,
outpatient clinics, which are designed to affect patient's psychology positively, full-fledged Radiology Department, PACS system, Coroner Intensive Care Unit, General Intensive Care Unit, CVS (Cardiovascular Surgery) and Newborn Intensive Care Units, Coronary Angio, Angio service, fully equipped operations and MRA and CT rooms which are designed with ambient technology to make patients feel comfortable during the radiological examinations.
The hospital, which provides services in all branches including cardiac and Vascular Surgery, Organ Transplantation, Medical Oncology, da Vinci Robotic Surgery and In Vitro Fertilization, provides the most advanced diagnostic and treatment services reached by the technology with coronary Intensive Care, General Intensive Care, KVC Intensive Care and Neonatal Intensive Care Units, coronary angiography, angiography service and fully equipped operating rooms.
Our center aims to respond to any emergency that a patient may have with Memorial quality and meeting medical necessities in growing regions. All diagnostic and treatment services are offered in the hospital with a multidisciplinary approach.
Memorial Ataşehir Hospital provides healthcare services 24/7 in every branch with experienced physician staff, friendly staff, superior infrastructure and technical equipment that makes the person feel peaceful and safe.
Memorıal Antalya Hospital
As a 15,000 square meter JCI-accredited health care facility, Memorial Antalya Hospital provides patients with a 400-strong medical and administrative staff, 132 in-patient beds, 28 intensive care beds, four intensive-care units, five operating theaters, a state-of-the-art radiology department, MRI and CT units, intensive care units with adjustable lighting to simulate day-night patterns, an American College of Embryology accredited embryology laboratory, coronary angiography service, and outpatient clinics with comforting and friendly atmospheres. Memorial Antalya Hospital is a world-class healthcare facility with internationally-recognized academic staff, specialized physicians, professional health care personnel who can combine their knowledge and experience with close attention to patient needs, patient-centered service standards, and top notch, effective patient care.
Memorial Antalya Hospital received Joint Commission International (JCI) accreditation certificate for 3 years in a row after it was inaugurated.
Memorial Antalya Hospital provides its patients and their loved ones with peace, quality and comfort in its modern patient rooms and living spaces. Memorial Antalya Hospital is easily accessible by virtue of being located right in the center of Kepez, Antalya; very close to many holiday resorts, the airport and the bus terminal. All departments of the hospital operate on a 24/7 basis to help creating healthier, better lives.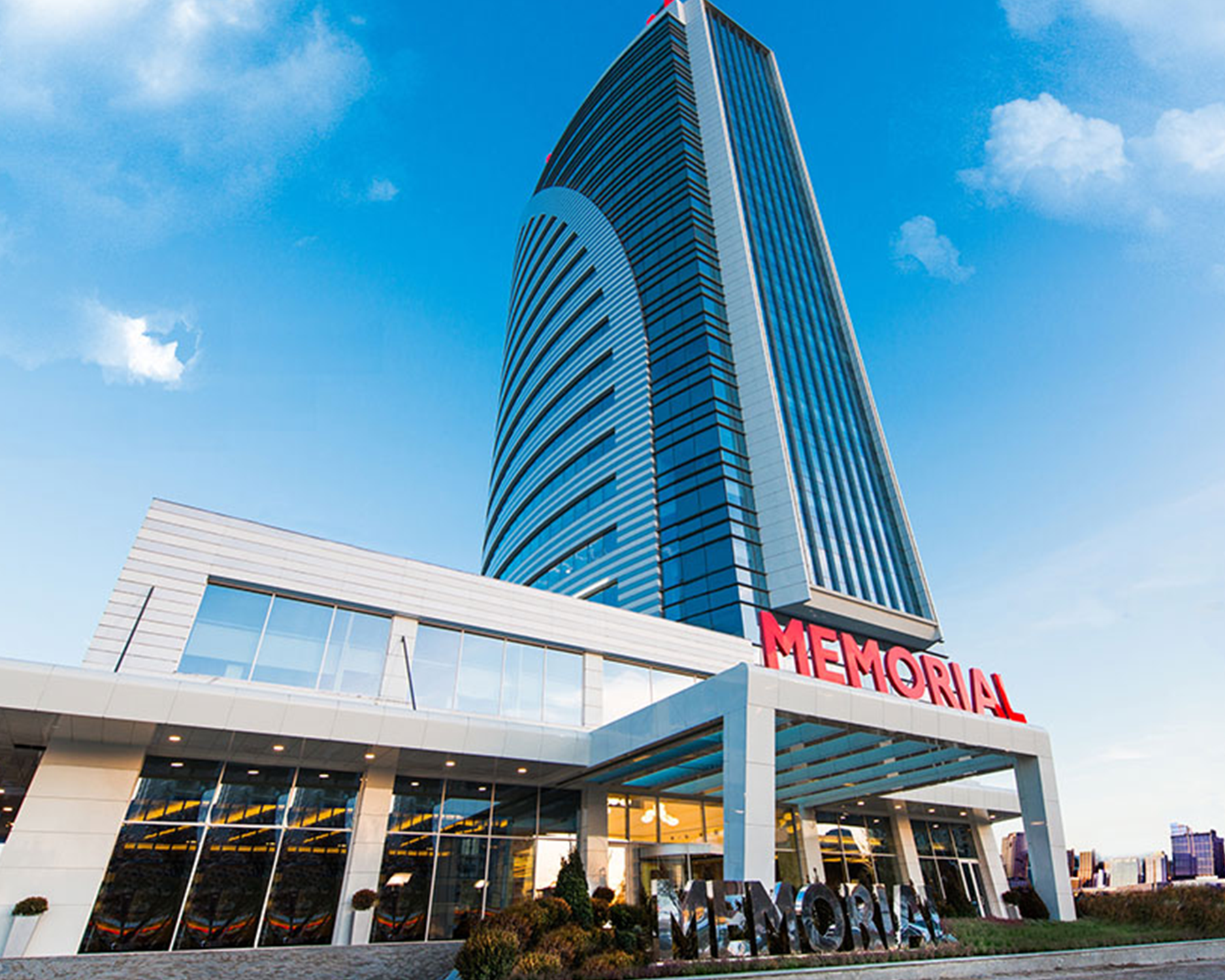 Memorial Healthcare Group, shaping Turkish healthcare industry, a reference center in the international arena with its scientific and medical achievements, is now in the Capital City…Memorial Ankara Hospital serves as the healthcare base of the region with its departments that become prominent in the world as a reference center, its academic faculty that is comprised of specialist physicians, its patient-oriented service approach, its diagnosis and treatment facilities with the most advanced medical technology in Turkey, its modern architecture and brand new healthcare approach.
Memorial Ankara, the capital's largest private hospital with 42 thousand square meters of indoor space, also stands out with its superior technological infrastructure. With its 230 bed capacity, of which 60 are in intensive care units; MR and CT rooms designed with "Ambience technology" to provide comfort to the patients during scanning, world-class Coronary Intensive Care, General Intensive Care, CVS Intensive Care and Neonatal Intensive Care units, Digital Coronary Angiography room, Angiography service, full-fledged 11 operating rooms and 63 polyclinics, Memorial Ankara is designed as a world-class hospital. LED lamps used in the operating rooms that comply with the international standards, and where latest sterilization techniques are used, bring more comfort for the patient and operator thanks to their features such as adjustment of light color according to the characteristics of the operation and prevention of heat radiation.
Patients are much less affected by radiation during the procedure, thanks to a 256-section computerized Flash tomography (CT) device. The 70cm-wide state-of-the-art MRI device, which is wider than the standard MRI, provides great relief, especially to patients with a fear of indoor spaces. Memorial Ankara Hospital also has an MRI-compliant anesthesiologist and monitor.
Memorıal Kayseri Hospital
Memorial Healthcare Group is with the patients in Central Anatolia region with its qualified healthcare services and perfection standards. Memorial Kayseri Hospital and Central Anatolia region has also moved and Memorial Kayseri, the group's 9th hospital in 2013 began to serve as.
Memorial Kayseri Hospital is positioned to provide all healthcare needs of Central Anatolia region with its patient rooms, which have a modern architectural design, and living spaces as well as decent and strong academic personnel, leading expert physicians, medical personnel who combine knowledge with close interest and patient-oriented service mentality.
Memorial Kayseri Hospital, which is the 9th hospital of Memorial Healthcare Group, is placed on 11.000 square meter and gives service to its patients and patients' visitors' healthcare along with international quality and comfort with its 119-bed capacity and 5 operating room that have superior technological equipment. Memorial In Vitro Fertilization services, which is accepted as a reference by world's most countries, united with Kayseri In Vitro Fertilization Center due to its suitability in that ethics and quality standards. Kayseri Ivf Center with the brand of Memorial, continues to stand by the families who wish to have a child.
PACS system creates a medical synergy among all Memorial Hospitals of Turkey by sharing cases with imaging and laboratory findings.
Memorıal Diyarbakır Hospital
After Istanbul and Antalya, Memorial Hospitals Group brings healthcare to Southeastern Anatolia Region with Memorial Diyarbakır Hospital.
With its physicians, diagnosis and treatment units, patient care units, hotel management services and hotel architecture, Diyarbakır Memorial Hospital is designed to provide service not only Diyarbakır but also to whole region.
Memorial Diyarbakır Hospital provides service with its 350 medical and managerial personnels, 14.000 square meter covered area and 141 bed capasity. There are 15 beds for general and newborn intensive care units each, 5 beds for CVS intensive care unit, 3 beds for coronary intensive care unit and 6 beds for operation rooms. There are suite rooms and rooms for handicapped patients as well as the patient rooms which are designed according to any needs of a patient with the modern medical architecture. By being near to the airport and centred, Memorial Diyabakır has astrategic place in Diclekent. Thus Memorial is in reach of not only for the people of Diyarbakır but also for neighbouring provinces like; Batman, Mardin, Sanlıurfa, Adıyaman, Elazığ, Bingol, Mus, Bitlis and also for the patients from abroad.
Memorial Tigris Hospital was inaugurated in 2013 as Memorial's 9th hospital. Memorial Healthcare Group has started to offer healthcare service of global standards also with its second address in Diyarbakır, Memorial Dicle Hospital. Following Memorial Diyarbakır Hospital, Memorial's second hospital in the city, Memorial Dicle Hospital, has been designed not only to serve Diyarbakır, but also to the whole region with its academic staff composed of specialist physicians having expertise in their fields, modern diagnosis and treatment units, technological equipment, and its architecture suitable for patient comfort.
Memorial Dicle Hospital, established on a closed area of 21 thousand square meters, serves with its medical and administrative staff of 250 people. In the hospital with the capacity of 138 beds, 9 surgery rooms, 26 neonatal ICU beds, 23 general ICU beds, 12 cardiology and cardio-vascular surgery ICU beds, and 5 pediatric ICU beds are available, totaling a total number of 66 ICU beds. Memorial Dicle Hospital has an advanced medicinal architecture, with its out-patient areas, patient rooms, comfortable suit rooms, playgrounds for children, and sections specially designed for the needs of disabled patients.